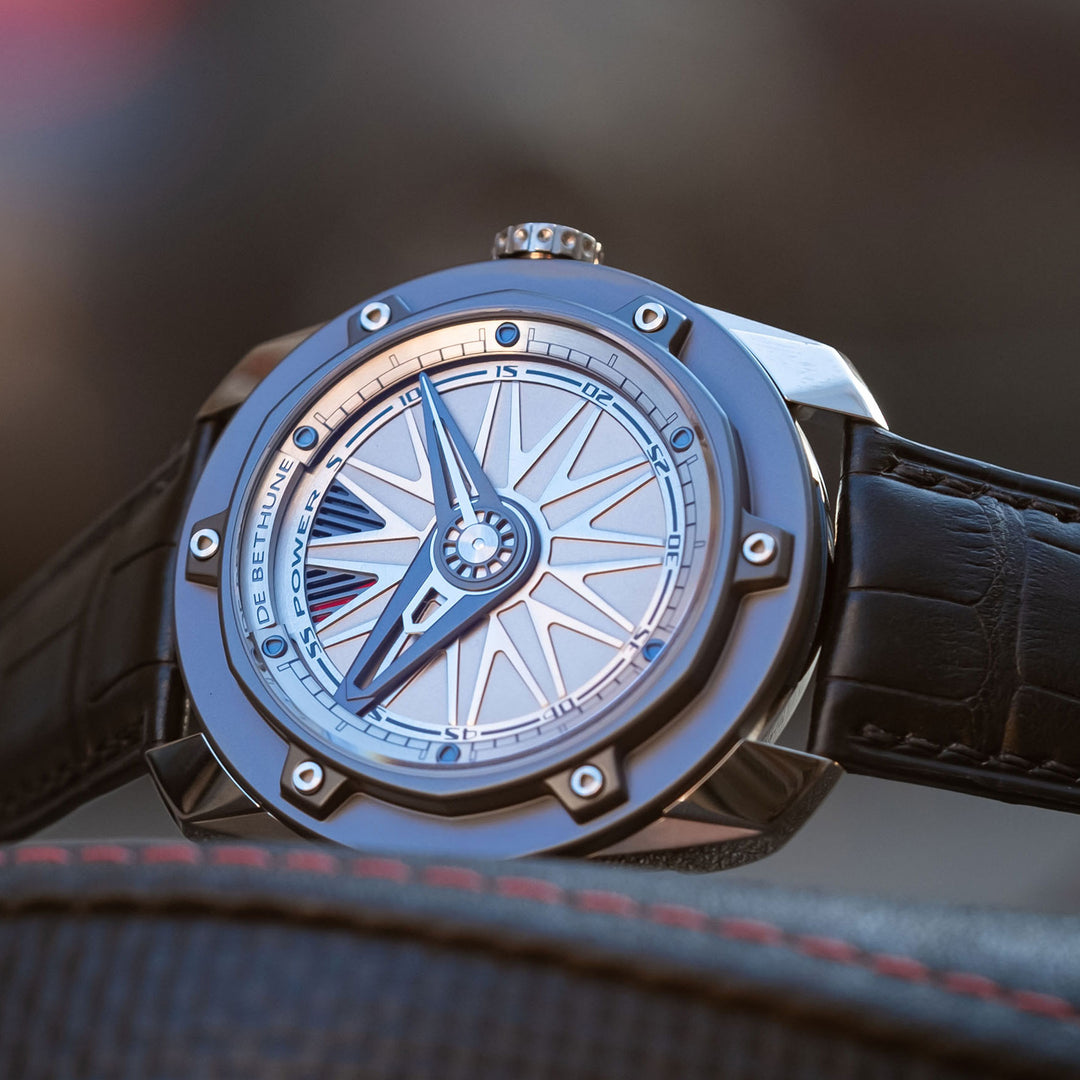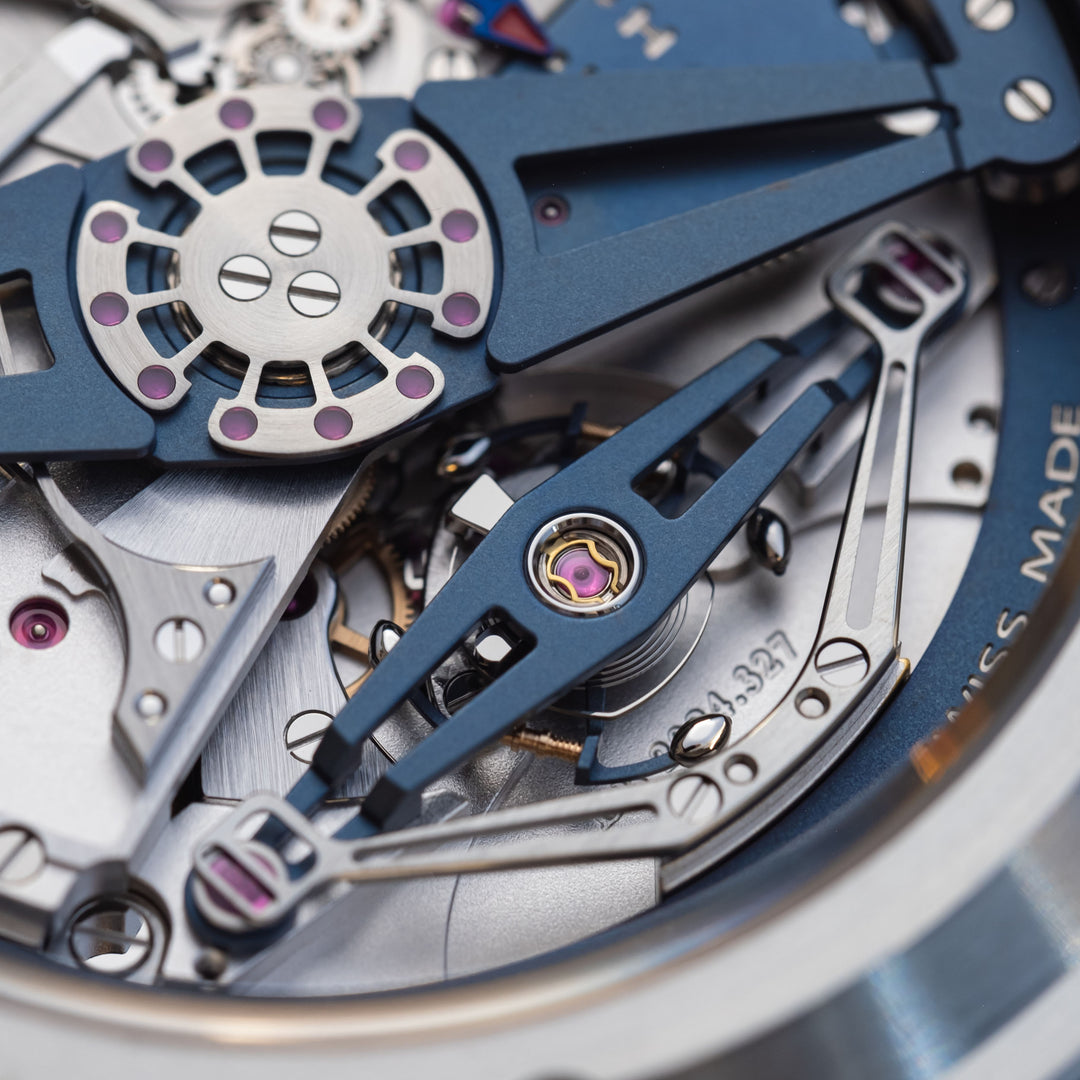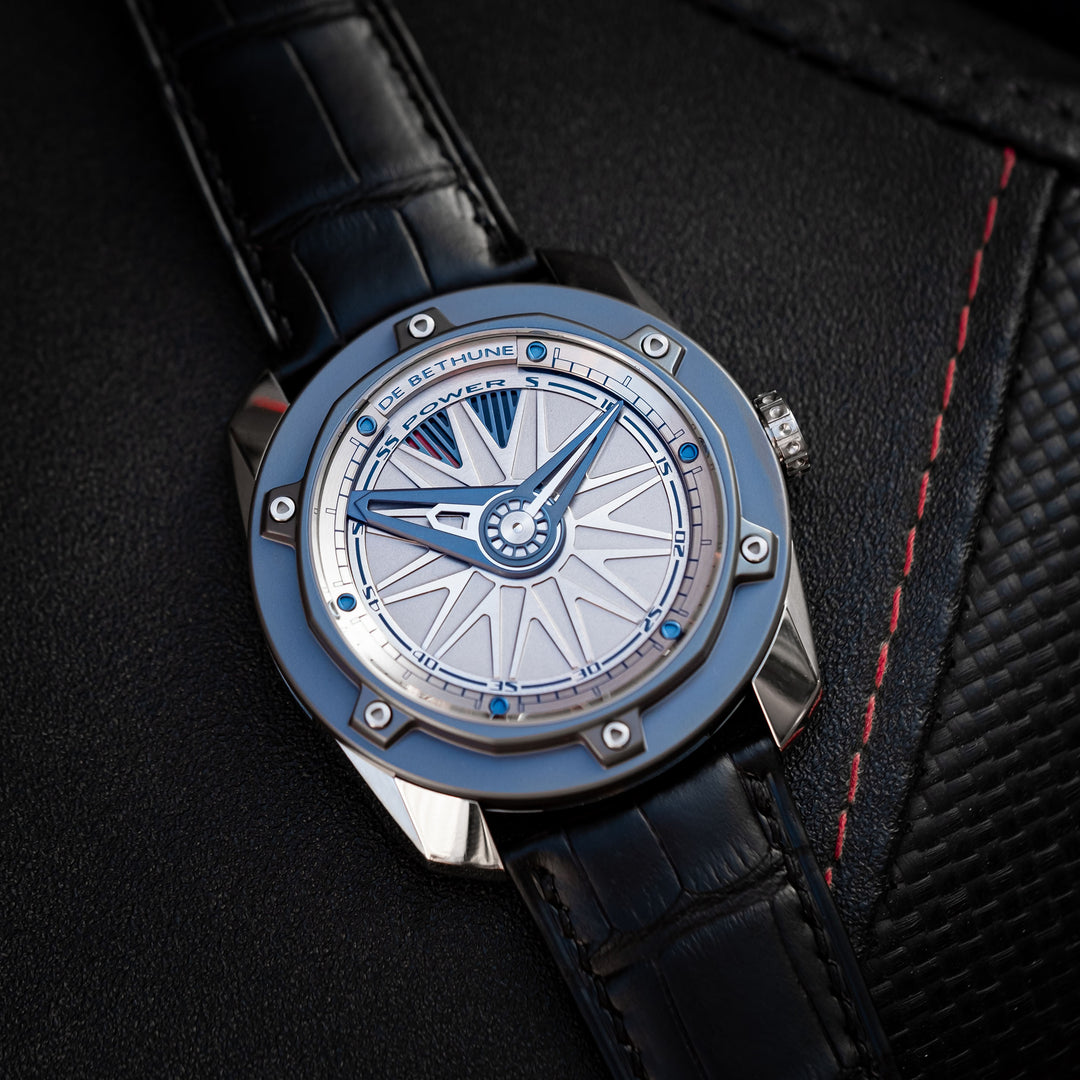 DB24 TIS1Z3 LIMITED EDITION OF 50 PIECES
---
Free Worldwide Shipping For Watches
De Bethune offers to the owner of this DB24 the possibility to regulate the winding mechanism according to his activity:

Too much energy = mechanical wear and over-winding
not enough energy = insufficient winding

The energy of this sporty De Bethune watch is harnessed by a titanium/platinum oscillating weight and transmitted to the mainsprings via a going train. The mainsprings progressively coil around an arbor accumulating this energy. It is then systematically distributed to the watch movement. The maximum power reserve is achieved in a period of time that varies by several hours according to the wearer's level of activity.

High "H" – avoids any surges of the rewinding spring
Middle "M" = normal activity
Low "L" – ensures a minimum winding sufficient to maintain regulating performance

This watch is a highly technical piece of design, not just because of its mechanism but also for its highly complex titanium structure. The dial, hands, balance, bridges, case rings, and rotor are all made from titanium which is a highly complex metal to work with requiring high frequency (microlight) milling, very fine sandblasting, and heating at very high temperature. The titanium and steel hands are set at three levels easy-to-read – a unique De Bethune design.

The ultimate in sporty-looking watches, this watch has a 12-hour segmented grey and blued titanium dial with a grey bezel and eight-hour indexes indicating the equal number hours. The rugged hands are in grey and blued titanium and the outer dial/bezel fixing is by special rugged De Bethune titanium screws.

Now you have the chance to own this one of 50-piece limited edition, restored by our own watchmakers with a full refurbishment and testing to make sure the timepiece still meets our own high standards, and for your peace of mind, it has a new De Bethune Certified Preowned two year guarantee, new strap and original De Bethune box.

Production Year: 2008
Model Launch Year: 2007
Number Of Watches Produced: 50
Original retail price: 60'500 CHF


Name: DB24

Reference: DB24TIS1Z3

Functions: Hours – minutes – power reserve – control of automatic winding


Technical features of calibre DB2424


Number of parts: 353

Jewelling: 47 jewels
Diameter: 30 mm
Power reserve: 6 days, ensured by a self-regulating twin barrel
De Bethune Innovation (2004)

Specificities: Titanium/platinum balance wheel
De Bethune Patent (2008)

"De Bethune" balance-spring with flat terminal curve
De Bethune Patent (2006)

Triple pare-chute shock-absorbing system
De Bethune Patent (2005)

Speed regulating system
De Bethune Innovation (2006)

Frequency: 28,800 vibrations per hour
Adornment: hand-decorated with chamfered and polished steel parts
natural fired-blued titanium bridge

Display:
Dial: titanium, power reserve indication at 12 o'clock
Hands: titanium blued and hand-polished steel
Case and strap:
Case material: Blued titanium 
Case diameter: 48mm
Case thickness: 15,40mm
Lugs: integral lugs
Crystal: Sapphire crystal, 1800 Vickers hardness with double anti-reflective treatment
Case back: open with sapphire crystal, 1800 Vickers hardness with double anti-reflective treatment
Strap: Extra-supple alligator skin, lining in calf
Buckle: Pin buckle
WATCH SHIPPING AND DELIVERY TIMES:
All PreOwned purchases come with free shipping on behalf of the De Bethune team as a thank-you for choosing our Certified Preowned platform. Once payment is received in full, we endeavor to ship your new De Bethune  as soon as possible (usually within 2-3 days.) Please note that shipping will be delayed if payments are taken over the weekend, bank or national holidays.
*All prices are excluding any importation taxes & fees requested by the buyer's country policy. If taxes & fees should be applied at the importation, They should be carried by the buyer.
Based on your location, we will choose the right shipping agent to ensure your watch reaches to swiftly and safely. Once it has been collected from us, we will email you to confirm and share the tracking details.
If shipping is delayed for unforeseen reasons, you will be notified immediately so we can agree on the best possible outcome. 
*Please note due to restrictions on exotic leather in certain countries, your new purchase might be sent on a different strap than pictured. This is to avoid delays at customs. We will send the correct strap separately. 
RETURNS POLICY
We trust it won't happen, but in the unlikely event that you are not fully satisfied, please contact us on +41 22 310 22 71 and we will be happy to go over our returns process with you. 
Please note that we cannot refund returned items unless all elements on the returns checklist have been confirmed.

RETURNS CHECKLIST
1. All tags and labels are in their original state and place and have not at any point been removed from the watch.
2. The timepiece has not been worn and is free of any marks or scratches that were not present at the time of shipping.
3. All instructions, warranty card, packaging etc. are in the same condition as at the time of shipping.
4. The timepiece is returned to us within 14 days (De Bethune does not cover the cost of shipping. The watch must be shipped via an official courier and be fully insured.)
IN CASE OF A FAULT
Please contact us on +41 22 310 22 71 as soon as you are aware of a fault with your watch.

RECEIVING A REFUND
After the watch has been returned to De Bethune for a full inspection and approved for a refund, please allow up to 14 days from the date of receipt for processing. Funds will be credited back using the original payment method.
Should you have any further queries regarding our returns policy, please do not hesitate to contact us via e-mail at boutique@debethune.com